Do the issues that divide us seem impossible to address? Are the challenges confronting us and our communities overwhelming? Let's Talk.
---
Join Wright Library for Let's Talk, an event series based on the American Library Association's LIBRARIES TRANSFORMING COMMUNITIES campaign that promotes in-depth conversation, intentional community, respect, active listening, and problem-solving among neighbors. 
Email our community engagement office to be added to an email list for upcoming Let's Talk events. Learn more about Wright Library's Conversations about Race.
---
UPCOMING EVENTS
7-8:30pm November 10, 2021
Racism, Riots, and Murders: Dayton in the 1960s & 70s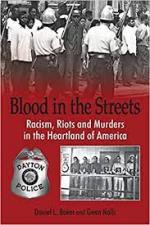 REGISTER
VIRTUAL EVENT. Registration Required
Dig deeper into Dayton's history of strained race relations, court ordered school desegregation, oppression, fear, and white flight with retired Dayton Police Lieutenant, Dan Baker.  Baker worked as a beat cop and detective in the 1960s and 70s during some of the most turbulent times in Dayton's History when casual and rampant racism frayed race relations to the breaking point. Like many cities, Dayton exploded with riots on the West Side that seriously damaged businesses in the already impoverished area. One thousand Ohio National Guard were called to help restore order, and many white business owners never returned. Dan's career gave him an intimate look at racism, riots, police responses, and racially motivated murders. One of his cases involved a white supremacist serial killer who targeted Black men on the West Side over four summers. With his wife, Gwen Nalls, Baker wrote Blood in the Streets, a True Crime story based on actual events in Dayton from 1965-75. Dan's knowledge and experience give him unique insight on the history of racism and policing in Dayton that is still relevant today. 
Hold your own conversations with family, friends, and neighbors using livingroomconversations.org guides
PAST EVENTS
Nature's Best Hope: A Wright Library Community Read  April 1-30, 2021
Anti-Racism 101 Webinar Series - Fall 2020 & Winter 2021
2020 Election - Concerns and Aspirations, Wednesday October 21, 2020 - 7-8:30pm
Virtual Antiracism Conversation- Slavery and its Consequences, Wednesday, August 5, 2020 - 7-9 p.m. 
Virtual Antiracism Conversation - Understanding Whiteness; with SURJ-OH Wednesday, July 15, 2020 - 7-9 p.m. 
Virtual Antiracism Conversation - Spotlight on the Moment; with SURJ-OH Tuesday June 23, 2020 - 7-9 p.m. 
Barriers to Voting, with Dianne Herman of the League of Women Voters - Thursday, June 4, 7-8 p.m.
Anti-racism Book Discussion, How To Be An AntiRacist by Ibram X. Kendi- Sunday May 3, 2-3:30 p.m. 
Earth Day, film discussion - Wednesday April 22, 7 p.m.
Racial Wealth Gap Simulation with Hall Hunger Initiative Saturday February 22, 2020 2:00-3:30 p.m.
2nd Amendment - Saturday November 2, 2019 - 2-3:30 p.m.
Mass Shootings - Saturday October 19, 2019 - 2-3:30 p.m.
Sworn Again America Ceremony - Saturday June 15, 2019 - 10:30 a.m. 

American Creed Conversation at Wright Library - Saturday May 11, 2019 - 2:00-3:30 p.m.


Film Screening & Conversation: American Creed - Saturday, March 30, 2019 - 1:00pm-3:30pm

Anti-racism Book Discussion: So You Want to Talk About Race by Ijeoma Oluo- Saturday, March 9, 2019 - 2:00pm-3:30pm

Islamophobia and Racism Town Hall - Saturday, February 16, 2019 - 2:00pm to 3:30pm

Families and the Political Divide - Saturday, December 1, 2018 - 2:00pm to 3:30pm

Let's Talk: Our Voting System  - Sunday, November 4, 2018 - 2:00pm-3:30pm

White Privilege - Saturday, October 6, 2018 - 1:00pm to 3:30pm

Technology in Our Lives - Saturday, September 8, 2018 - 2:00pm to 3:30pm

America We Want to Be - Monday, July 16, 2018 - 7:00pm to 8:30pm
Wednesday, July 18, 2018 - 7:00pm to 8:30pm
Wright Library offers opportunities for education and discussion on race and other divisive and political issues in our world. The library does not endorse any political party or candidate, or their political position. The opinions of attendees and speakers are their own, and do not represent the library.